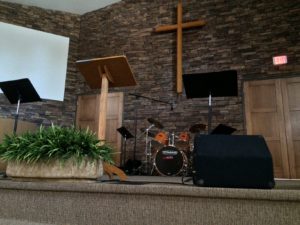 Welcome to our website!
Our prayer is that we are a church that God can use to bless and strengthen you by the power of Jesus, and that you will live a life of abundance in fellowship, joy and freedom. Rowandale Baptist Church is here for you. We want to function as a fellowship of believers coming together to declare the glory of the Lord, and to celebrate Jesus as King. We study the Word of God, practice what we learn, and in the process grow together. May God richly bless you! We hope to see you soon!
This Sunday…
Sometimes life gets pretty hard to take. You can be going along thinking you're doing okay, when all of a sudden, something comes out of nowhere to knock you down. How we react to these situations depends on many other factors as well. Some personality types are better suited to dealing with stress than others. But at the end of the day, you know that even though you feel down and beaten, you have to keep going. At those times, it's important that we draw strength from someone or something that will help us get through whatever it is we're facing.
Elijah had a time of great personal defeat. He was ready to give up and he felt so discouraged that he wanted to die. The amazing thing is that this time in his life came after a time of great personal victory. He was on top of the world, and then something happened that sent him into the depths of despair. It's important for us to note that everyone is susceptible to these kinds of experiences, and when they happen we need to take care of them. I Kings 19:1-18 tells the story of how God dealt with him during such a time as that.
Contact Us:
If you have any questions or comments about our ministry here at Rowandale please contact us at office@rowandale.ca.
Ph. (204) 338-1174 Fax. (204) 334-0305
How to find us:
Ministries We Are Affiliated With: